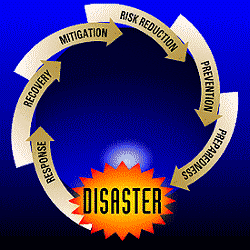 Sometimes a picture really is worth 1,000 words.
Or laughs.
This image was passed around at work but is legit. It comes from the FEMA web site. However, without the surrounding context, it appears to say the following:
Disaster leads to a Response
Response leads to Recovery
Recovery leads to Mitigation
Mitigation leads to Risk Reduction
Risk Reduction leads to Prevention
Prevention leads to Preparedness
Preparedness lead to DISASTER!
I wonder if that graphic artist was trying to be funny or scary. Or both.
Posted by jzawodn at October 25, 2005 11:33 AM
Privacy:
I do not share or publish the email addresses or IP addresses of anyone posting a comment here without consent. However, I do reserve the right to remove comments that are spammy, off-topic, or otherwise unsuitable based on
my comment policy
. In a few cases, I may leave spammy comments but remove any URLs they contain.