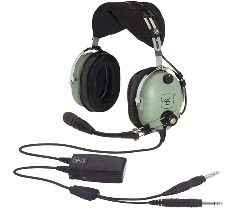 A good pair of headphones is one of the most important pieces of equipment a pilot can own. What constitutes a "good" headset?
Sound quality
Noise reduction
Comfort
Durability
When I was shopping for headphones a couple years ago, I read a lot of recommendations. David Clark was always at or near the top of most lists, but they offer a variety of models. So I headed to an aviation store to try them out in person.
There I was able to try on about a dozen different models. I was surprised to learn how much they vary in comfort, cost, and noise cancellation. As you might expect, the more expensive headsets tend to be more comfortable and provide better noise reduction.
I was interested in a well padded set (so I could wear them for several hours) with excellent noise reduction, both active and passive. I ended up buying the H10-13X model, which has hardwired electronic noise cancellation. But even with the electronic noise reduction turned off, they gel filled ear pads block an incredible amount of sound.
To put this in context, when flying a Citabria with poor noise insulation (there's not much fabric between you and the engine), I find that 90% of the noise is blocked by the nicely sealed ear pads. The 9 volt battery powered active noise reduction is really icing on the cake.
If you happen to be in the market for a good pair of headphones for use in a noisy cockpit, I highly recommend checking out the David Clark line.
Posted by jzawodn at October 24, 2005 09:41 PM
Privacy:
I do not share or publish the email addresses or IP addresses of anyone posting a comment here without consent. However, I do reserve the right to remove comments that are spammy, off-topic, or otherwise unsuitable based on
my comment policy
. In a few cases, I may leave spammy comments but remove any URLs they contain.