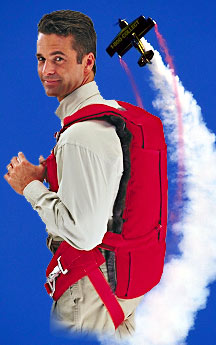 Most people don't know a lot about parachutes. In fact, I'd venture a guess that most pilots don't know much about them either--unless they've tried sky diving. :-)
Before work this morning, I headed up to Hayward, California to fetch my parachute. Like most glider pilots, I wear one when I fly. Mine is a red and white Mini Softie (just like the one on the right) that's rated for my weight range and doubles as a nice back cushion in the glider.
Hayward is where Allen Silver's company is located: Silver Parachute Sales & Service. Allen is an FAA certified master parachute rigger and one of the best in the world. He does parachute training, repair work, sales, and so on (see his website). He also presents and various conferences around the world. And, if you're lucky, you'll catch him jumping out of a plane at an air show near you.
The emergency parachutes we wear are not like those you see sky divers using. Ours are round and smaller. They have less directional control than the larger rectangular models that you might see during an air show.
What's a Repack?
The FAA mandates that our parachutes be repacked every 120 days. Allen and a few others have been working to extend that to 180 days (in most other countries is 365). But in any case, a repack is just what it sounds like. The rigger pulls the ripcord and removes the parachute from the pack. He or she spreads it out on a large surface to check for damage or wear before putting in all back together in a very methodical fashion.
I've never needed to use mine and hope I never do. But if I do need to use my chute, the $55 that I spend on every repack will be the best $55 I've ever spent!
Posted by jzawodn at August 09, 2005 01:58 PM
Privacy:
I do not share or publish the email addresses or IP addresses of anyone posting a comment here without consent. However, I do reserve the right to remove comments that are spammy, off-topic, or otherwise unsuitable based on
my comment policy
. In a few cases, I may leave spammy comments but remove any URLs they contain.