I'm not sure why, but I've faced an above average number of serious cleaning challenges in the past few weeks--at least for a single guy without kids. Rather than simply be annoyed by these events, I'm taking the time to share my problems with the rest of the world.
Don't you feel lucky?
Litterbox vs. The Cleaners
A couple weeks ago I visited New Orleans for the 2005 Webmaster World Conference (pictures). I gone less than 2 days so didn't bother to ask the folks at Home Alone Pet and Plant Care (highly recommended, btw) to drop in on my cats.
Big mistake.
You see, my cleaning service visits every two weeks on Tuesdays. I left fort the airport on Tuesday morning and they hadn't arrived yet (they usually come during the early afternoon).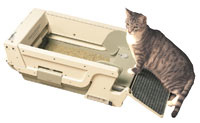 While cleaning, they apparently put the litterbox scoop (a little plastic shovel) into the litterbox and forgot to remove it. This wouldn't normally matter, except that I don't have an ordinary litterbox. No, I have the LitterMaid Mega Self-Cleaning Litterbox. And it kicks much ass.
But the scoop was left in such a way that it caused the mechanism to jam up. That shouldn't have been a bit deal, since the mechanism simple goes into reverse when it senses a jam. The trouble is that it was lodged in really well and jammed in both directions.
As a result, the litterbox ran for the next day and a half. This had the effect of, quite literally, scaring the shit out of my cats. Instead of using the litterbox that was then spooking them, they opted for the next best thing: my bedroom carpet. And the hallway carpet. And a little bit downstairs too.
I was most unhappy to discover this. Luckily, my cleaning service took responsibility for the problem and arranged to have the carpet steam cleaned. It's a good thing, too. I was headed to Parowan, Utah the following day.
Oh, and the litterbox doesn't work anymore either. I need a new one.
Exploding Root Beer vs. The Kitchen
Today I was getting some ice out of the freezer when several cans of Diet Root Beer decided to roll off the top of the fridge and hit the floor. I saw this happening in slow motion--well, all except the part where two of them explode. The exploding cans managed to spray my legs, shoes, the kitchen floor, walls, cat food, inside the freezer, and numerous other places. And, of course, I was attempting to cook when this happened.
One roll of paper towels and quite a bit of mopping later, the damage was mostly contained. After that was over, I stopped to think about the last time I had an major cleanup to contend with and realized that it'd been quite a while. I guess this was overdue.
Perhaps I shouldn't store cans that way.
Posted by jzawodn at July 10, 2005 09:38 PM
Privacy:
I do not share or publish the email addresses or IP addresses of anyone posting a comment here without consent. However, I do reserve the right to remove comments that are spammy, off-topic, or otherwise unsuitable based on
my comment policy
. In a few cases, I may leave spammy comments but remove any URLs they contain.