I'm off to New Orleans for the Webmaster World Search conference. It looks like the weather will be a bit warmer and more humid than I'm used to.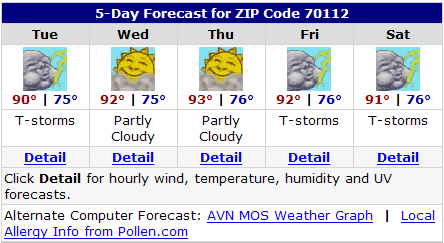 I'm going to be on two panels at the conference. Here are the descriptions sent to me by the conference organizers. Lemme know if there's anything you'd like to see me include in either one.
RSS Feeds and PodCasting
Generating an RSS feed for distribution can be a time consuming, but profitable venture. This session with deal with the distribution and website syndication.
Hello Mr Zawodny, your mission - should you choose to accept it - would be to talk about RSS feeds and search engines. (please notice the S on the end of search engineS...hehehe). How can we effectively take these feeds and get them listed around the web? Not just in Yahoo or Feedster, but by the general public as well. You know these new browsers like Opera have RSS readers built right in to them. I hear the ie v7 will also have a built in rss reader. What's the landscape out there for the feeds and where is it all going to (eg: the big picture in the big easy)?
Blogging for Fun and Profit
Blogging is moving into the mainstream, and this session will outline how bloggers are using this new medium for both pleasure and profit. In writing Business Blogs: A Practical Guide, Amanda Watlington and her co-author interviewed over 70 bloggers and found out how they are using blogs. She'll be sharing what they told her.
Jeremy, could you focus on blogging in support of your career? What are the risks? What happens when your personal views run counter to your employers? How do you keep both separate and not run the risk of going over board? Or do you keep your resume polished 2x47x365? :-) I think your own personal experiences with blogging and how you handle the duality with Yahoo would be absolutely fascinating to the audience. There are many that are in the exact same position and are afraid to do it.
Drop me a comment or email if you're going to be at either session.
Posted by jzawodn at June 21, 2005 10:21 AM
Privacy:
I do not share or publish the email addresses or IP addresses of anyone posting a comment here without consent. However, I do reserve the right to remove comments that are spammy, off-topic, or otherwise unsuitable based on
my comment policy
. In a few cases, I may leave spammy comments but remove any URLs they contain.