This week, I've needed to be at work by 9:30am three times. That's unusual for me, as I normally work from home for an hour or two and then come in sometime closer to 10:30am. Only on Wednesdays do I need to get here "early."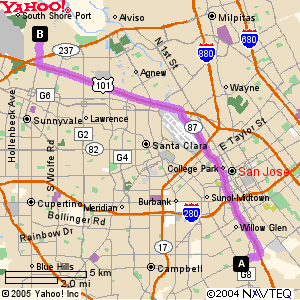 Traffic is the main reason for this. If I leave before 9:00am (when the carpool lane opens up) I end up spending far longer sitting in traffic, mildly pissed off at the city or state's inability to plan ahead.
What I discovered this week is that I can leave my house 8:40am, 8:55am, or even 9:05am and I'll still find myself arriving at work withing 2-3 minutes of 9:30am.
This was surprising at first, but it really does match what I've noticed in the 16 months I've been living in San Jose. Traffic really does seem to peak around 8:30am before it gets progressively better. By 10:15am or so (the time I left this morning) there's virtually no wait at the two highway entrance ramps I need to use (Almaden Expressway to Highway 87 North, and 87 North to 101 North).
I guess this means that the ideal strategy is to wait as long as possible before leaving on those 9:30am days. Leaving earlier has little benefit--unless there's a big accident, of course. But they usually mention that on the radio anyway. And I can just check Yahoo! Traffic before leaving.
Posted by jzawodn at May 13, 2005 11:17 AM
Privacy:
I do not share or publish the email addresses or IP addresses of anyone posting a comment here without consent. However, I do reserve the right to remove comments that are spammy, off-topic, or otherwise unsuitable based on
my comment policy
. In a few cases, I may leave spammy comments but remove any URLs they contain.