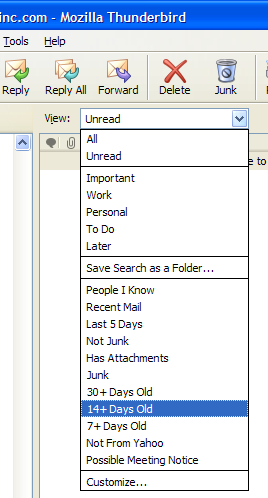 This has been a quiet week at work: no big projects, few meetings, several coworkers gone. In fact, I'm working from home today because UPS needs my signature for some damned thing I ordered. But that's another story.
This week I've had a chance to really catch my breath, catch up in things, and finally close in on having empty inboxes for both my personal and work e-mail.
To do this, I needed three things:
Time. It took the better part of a few days to plow through what I had and figure out how what might actually work.
Search. Between the search capabilities built into Thunderbird and Google Desktop Search, I've decided to abandon my religious filing of email into a custom crafted hierarchy of mail folders. It simply takes too much time and I realized that I just don't need to refer to things that way very often. I still have a lot of mail filtered into project specific folders automatically, but anything that ends up in my Inbox will simply get moved to a folder called archive as soon as I've dealt with it. My Inbox is now reserved for two things: (a) items I've not yet seen and which aren't covered by one of my filters, and (b) items I need to act on.
Filters. I've created a few filters in Thunderbird that help a lot. They're pictured at the right. They help to find, prioritize, and organize my mail. The "14+ Days Old" filter was most useful in getting things under control. I'd select all those messages, mark them as read, and move them to archive. I still have them available if I need to find 'em later, but they no longer clutter my mind.
As of this moment, there are 6 items in my Yahoo! Inbox and 8 in my personal Inbox. I'm going to try this GMail-like "archive-only" approach to managing my Inbox for a month or so to see how it shakes out. But so far it feels far more efficient and I don't think I've really sacrificed much to get it.
As a side note, the "Possible Meeting Notice" filter is my most recent creation. It's used to find those stupid meeting notices that Outlook/Exchange clients sent to non-Outlook users. I have a habit of letting them get lost in the pile if I don't act on them the minute they appear.
I haven't abandoned my big folder hierarchy, but I'm not longer manually moving messages around in it. I suspect I'll end up drastically pruning it before this experiment is over.
How do you deal with an assload of email?
Posted by jzawodn at April 28, 2005 01:33 PM
Privacy:
I do not share or publish the email addresses or IP addresses of anyone posting a comment here without consent. However, I do reserve the right to remove comments that are spammy, off-topic, or otherwise unsuitable based on
my comment policy
. In a few cases, I may leave spammy comments but remove any URLs they contain.