The more I think about Intelliseek, the more I think they'll either try to muscle Technorati out of their market or they'll buy 'em.
Intelliseek's BlogPulse Conversation Tracker is the sort of tool that I expected Technorati to build last year. In fact, I've joked about trying to build it myself using their API. (Could I sell it to them if I did?)
And the BlogPulse Trend Search is kinda cool too. Just for kicks, I did a Trend Search on the terms Yahoo, Google, and MSN.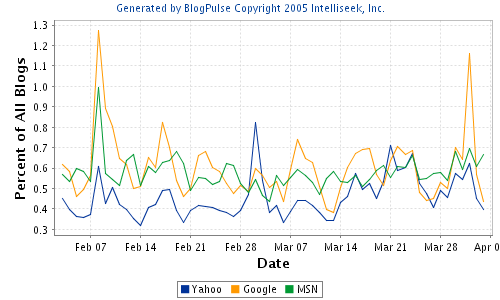 If Intelliseek can provide a killer self-serve reporting and alerting system for business customers of all sizes, where does that leave Technorati in terms of paying customers?
I'm not saying Technorati is dead in the water--not by a long shot. But seeing a company like Intelliseek get serious about this tells you there's likely a big demand for such services. And I thought that was a market Technorati wanted a big piece of too.
This will be interesting to watch.
Update: As I just mentioned to friend via IM: "You can play with this for hours. It's like Alexa... for blogs."
Posted by jzawodn at April 04, 2005 12:21 PM
Privacy:
I do not share or publish the email addresses or IP addresses of anyone posting a comment here without consent. However, I do reserve the right to remove comments that are spammy, off-topic, or otherwise unsuitable based on
my comment policy
. In a few cases, I may leave spammy comments but remove any URLs they contain.