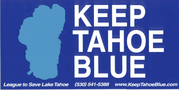 I've noticed that the vast majority of vehicles I see sporting the Keep Tahoe Blue bumper sticker are SUVs.
Does this cognitive dissonance not register with anyone else?
I've even spotted it on two Hummers in the Bay Area. But never once have I seen one on a hybrid auto like the Toyota Prius or Honda Insight.
Is this some inside joke I'm not aware of?
Posted by jzawodn at January 21, 2005 10:58 AM
Privacy:
I do not share or publish the email addresses or IP addresses of anyone posting a comment here without consent. However, I do reserve the right to remove comments that are spammy, off-topic, or otherwise unsuitable based on
my comment policy
. In a few cases, I may leave spammy comments but remove any URLs they contain.