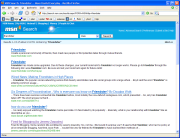 I've noticed a recent spike in hits to my famous Fired for Blogging post, in which I broke the story of Friendster's stupidest move and tracked the growing coverage for a few days. So I decided to investigate a bit.
It turns out that much of the traffic is coming from MSN Search, where a search for friendster yields that posting just "above the fold" in the #6 position.
Note to MSN Search: consider numbering the results. I shouldn't have to count to figure out that this was the 6th result on the page.
Anyway, I've captured the moment in the screenshot at the right, just for kicks.
Yes, I'm easily amused.
Oh, here's a quick side note. Not surprisingly, Friendster continues to lose smart employees and, rumor has it, many more are currently shopping their resumes in the valley.
Note to Friendster engineers: we're hiring. Ping me if you're interested.
Posted by jzawodn at January 13, 2005 12:54 AM
Privacy:
I do not share or publish the email addresses or IP addresses of anyone posting a comment here without consent. However, I do reserve the right to remove comments that are spammy, off-topic, or otherwise unsuitable based on
my comment policy
. In a few cases, I may leave spammy comments but remove any URLs they contain.