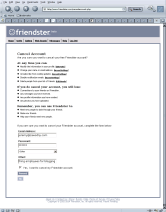 No, not me. (But would it surprise you?)
It seems that Friendster, who had no policy at all on employee blogging, has fired Joyce Park. You may remember her from such debates as Java vs. PHP. Or maybe her book. Or maybe mod_pubsub (blog).
Take a minute. Go read her blog. See what you can find that's so offensive to the company that they had to fire her.
I'm really resisting the urge to say what I really think about Friendster's current and past management. I think it speaks for itself.
Do you think they'll add a "bloggers need not apply" banner on their jobs page? I'm guessing not. Why? Because "you can work on social networking, but you cannot blog" just doesn't sound right, does it?
Now, pardon me while I got figure out how to cancel my Friendster account. I suggest you do the same.
Wow, that was easy! The image at the right (larger version) is what it looks like to cancel your friendster account because they fired an employee for blogging.
Just in case you wondered.
Related Coverage:
Posted by jzawodn at August 30, 2004 06:17 PM
Privacy:
I do not share or publish the email addresses or IP addresses of anyone posting a comment here without consent. However, I do reserve the right to remove comments that are spammy, off-topic, or otherwise unsuitable based on
my comment policy
. In a few cases, I may leave spammy comments but remove any URLs they contain.