How cool. My Uncle Joe (a scientist at NASA by day) has been taking some nice astronomical pictures by night. From what I hear, he's got a nice little ovservatory setup in his coastal Virginia backyard.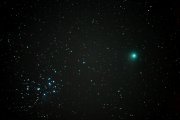 He shot the picture above with his Canon Digital Rebel (a very nice camera). Check out the whole story.
Posted by jzawodn at January 08, 2005 10:03 PM
Privacy:
I do not share or publish the email addresses or IP addresses of anyone posting a comment here without consent. However, I do reserve the right to remove comments that are spammy, off-topic, or otherwise unsuitable based on
my comment policy
. In a few cases, I may leave spammy comments but remove any URLs they contain.