As Josh notes, there's a lot of snow 'round these parts.

My sister just headed back outside to shovel her driveway. Last night (after it took way to long to get here from the airport) I joked that I should have bought them a snow blower for giftmas. Except that I really wasn't joking.
I think she's given up on the idea of shoveling the whole thing, instead concentrating on making two large "stripes" where the tires meet the driveway.
Here's another point of view on it: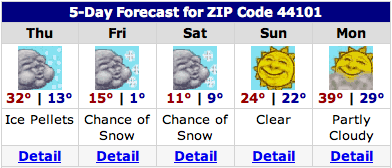 Compare that ("ice pellets?!?!") with the weather back in California: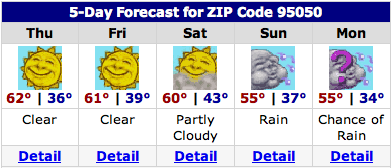 Heh.
On the bright side, I don't have to worry that I'm missing some great wave flying while I'm gone.
Update: Josh has posted some of the snow pictures he took.
.
Posted by jzawodn at December 23, 2004 11:59 AM
Privacy:
I do not share or publish the email addresses or IP addresses of anyone posting a comment here without consent. However, I do reserve the right to remove comments that are spammy, off-topic, or otherwise unsuitable based on
my comment policy
. In a few cases, I may leave spammy comments but remove any URLs they contain.