During my 3.5 hour layover in Chicago, I'm trying out this LaptopLane workspace and service. It's not too bad, but is a little pricey. I should get offline soon. 65 cents/minute adds up quickly!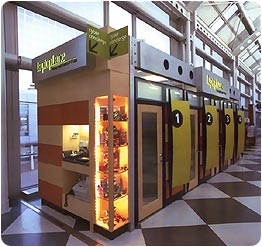 I know there's a Yahoo display somewhere in this airport that has (I think) free Wifi, but I'll be damned if anyone here can tell me what terminal it's in. That leads me to believe it's not in Terminal 1.
Oh, well. Off to Ohio soon. It's gonna be cold there. Really cold.
Posted by jzawodn at December 22, 2004 02:25 PM
Privacy:
I do not share or publish the email addresses or IP addresses of anyone posting a comment here without consent. However, I do reserve the right to remove comments that are spammy, off-topic, or otherwise unsuitable based on
my comment policy
. In a few cases, I may leave spammy comments but remove any URLs they contain.