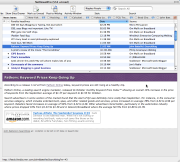 As part of his ad experiment, John Battelle had some amusing run-ins with Google. He also recently started using Feedburner to inject ads directly into his RSS feed. The screenshot at the right shows what those look like in NetNewsWire (where I read most of my feeds).
My thoughts on this:
The ads are irrelevant--unrealted to the content of the post. Unlike AdSense, they don't fit in with the context at all.
The ads are pretty big.
That space is not well used. Instead of Amazon.com branding, why not show an album cover there? That might get me interested. Maybe.
The bottom line is that if I see this happening on a lot of feeds, I'll probably start trying to figure out how to block the ads--just like we did with the most annoying ads on web sites. Yes, I know they're not animated flash ads that mimic Windows alert boxes, but they just don't seem to fit in with the feed reading environment yet.
As much as I hate to give money to Google, AdSense seems more appropriate here. (Then again, Google technically pays me to run ads too.) Besides, ones of Amazon's biggest strengths, their recommendation engine, is not showcased in this form of advertising. That's a pity.
I suspect this isn't paying off for John well anyway.
Posted by jzawodn at November 08, 2004 05:57 PM
Privacy:
I do not share or publish the email addresses or IP addresses of anyone posting a comment here without consent. However, I do reserve the right to remove comments that are spammy, off-topic, or otherwise unsuitable based on
my comment policy
. In a few cases, I may leave spammy comments but remove any URLs they contain.