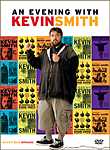 I just finished watching the first DVD of the two DVD set An Evening with Kevin Smith (get it via Netflix). If you're a fan of Kevin Smith movies, I can't recommend it enough.
It's mostly composed of clips from Q&A sessions from his visits to various college campuses. Not only is it very entertaining, but you also get some real insight into what shaped bits of his movies.
That reminds me, I need to buy several of his movies...
Posted by jzawodn at September 15, 2004 09:04 PM
Privacy:
I do not share or publish the email addresses or IP addresses of anyone posting a comment here without consent. However, I do reserve the right to remove comments that are spammy, off-topic, or otherwise unsuitable based on
my comment policy
. In a few cases, I may leave spammy comments but remove any URLs they contain.