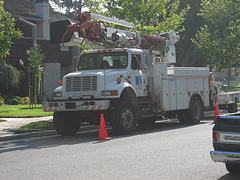 Well, they're back. I shot the picture at the right a few minutes ago. With no warning, PG&E shut off power to do some repair work from last night's outage.
Here's the thing. They know that I was one of the affected folks yesterday because I called twice requesting information. Why the hell didn't they call me this morning to warn me? I'd have moved my car out of my garage (the one with the electrically operated door) and onto the street before taking a shower.
Instead, all the lights died as I was getting out of the shower. The good news is that I should be able to work for a while on battery power (again). This outage is supposedly going to be 2 hours at the most. I know this not because they bothered to tell anyone, but because a neighbor shouted out the window and one of the guys yelled back "two hours at the most."
Earth to utility companies. Talk to your customers. If you know an outage is coming, tell us.
Update: The power gods are unhappy with me. It's been 2.5 hours now. The truck is still there. My little 400VA APC UPS is running out of juice and beeping at me. So I plugged it into my 500VA APC, except that it had been unplugged from the wall for a few months now. Doh!
It's a race against the clock. Luckily I'm powering small devices. But still, I think I may invest in a larger UPS soon.
Update #2: Murphy sucks. The power came back on-line just 20 minutes after the UPSes gave out. But it was just in time for lunch, so it's not all bad...
Posted by jzawodn at August 30, 2004 09:15 AM
Privacy:
I do not share or publish the email addresses or IP addresses of anyone posting a comment here without consent. However, I do reserve the right to remove comments that are spammy, off-topic, or otherwise unsuitable based on
my comment policy
. In a few cases, I may leave spammy comments but remove any URLs they contain.