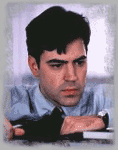 I'm really not sure why, but today just feels like a Friday. Maybe it's the upcoming holiday weekend. Maybe it's the Krispy Kreme doughnuts that appeared a little while ago. Maybe it's the fact that I'm hopelessly tired and it feels like it's been a long week?
I really don't know. But I think I have a case of the fridays.
It could be worse, I guess. A case of the mondays would really suck.
Hmm. If I took off tomorrow, I could have a case of the saturdays and that's always a good thing.
Posted by jzawodn at July 01, 2004 11:27 AM
Privacy:
I do not share or publish the email addresses or IP addresses of anyone posting a comment here without consent. However, I do reserve the right to remove comments that are spammy, off-topic, or otherwise unsuitable based on
my comment policy
. In a few cases, I may leave spammy comments but remove any URLs they contain.