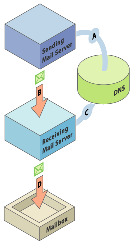 Well, the mystery of DomainKeys is now public.
Email spoofing - the forging of another person's or company's email address to get users to trust and open a message - is one of the biggest challenges facing both the Internet community and anti-spam technologists today. Without sender authentication, verification, and traceability, email providers can never know for certain if a message is legitimate or forged and will therefore have to continually make educated guesses on behalf of their users on what to deliver, what to block, and what to quarantine, in the pursuit of the best possible user experience.
DomainKeys is a technology proposal that can bring black and white back to this decision process by giving email providers a mechanism for verifying both the domain of each email sender and the integrity of the messages sent (i.e,. that they were not altered during transit). And, once the domain can be verified, it can be compared to the domain used by the sender in the From: field of the message to detect forgeries. If it's a forgery, then it's spam or fraud, and it can be dropped without impact to the user. If it's not a forgery, then the domain is known, and a persistent reputation profile can be established for that sending domain that can be tied into anti-spam policy systems, shared between service providers, and even exposed to the user.
It'll be interesting to see how this is received.
I haven't looked closely enough at the proposal yet to pass any sort of opinion. I do know some of the folks involved, so I'm quite hopeful.
Posted by jzawodn at May 18, 2004 03:47 PM
Privacy:
I do not share or publish the email addresses or IP addresses of anyone posting a comment here without consent. However, I do reserve the right to remove comments that are spammy, off-topic, or otherwise unsuitable based on
my comment policy
. In a few cases, I may leave spammy comments but remove any URLs they contain.