As a follow-up to last week's launch of RSS in My Yahoo! I'd like to describe how amazingly simple it is to configure MovableType to ping Yahoo's RSS database each time you post to your weblog.
But first I should explain why you want to do that... Simply put, if you ping Yahoo, you content makes it into My Yahoo much faster. Otherwise, left to it's own motivations, the crawler will pull your RSS feed every so often (more often if it thinks you post frequently).
Step #1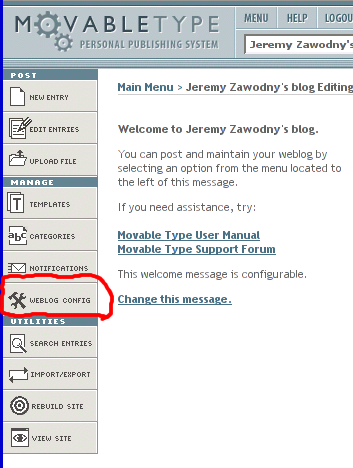 Main MT Admin Page
First, you must get to the main administration page in MovableType. It probably looks something like the image above. If you've never seen that before, I can't really help you. Once there, click the "WEBLOG CONFIG" button. To help you identify it, I'd done my best to imitate a 6 year old circling it with an electronic crayon.
Step #2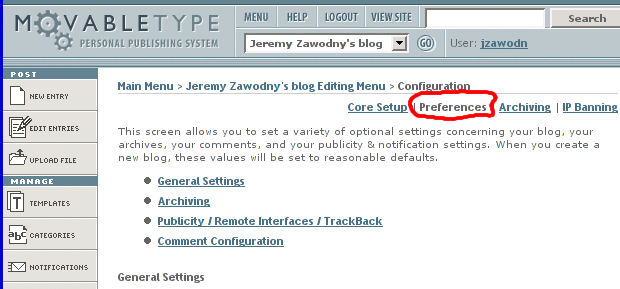 Weblog Configuration Page
Next, you need to click on the "Preferences" link at the top of the weblog config page. Once again, the digital crayon is here to help you find your way.
Step #3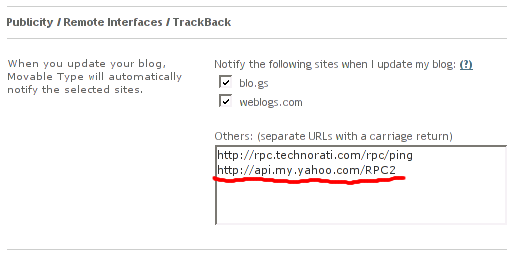 Remote Interfaces
Then, on the Preferences page, scroll down quite a way until you see the "Publicity / Remote Interfaces / TrackBack" section (shown above). Again, follow the crayon. In the text area, type http://api.my.yahoo.com/RPC2 and save your changes.
That's it.
See Also: Ping Yahoo RSS from WordPress and Moveable Type.
Posted by jzawodn at January 26, 2004 12:35 AM
Privacy:
I do not share or publish the email addresses or IP addresses of anyone posting a comment here without consent. However, I do reserve the right to remove comments that are spammy, off-topic, or otherwise unsuitable based on
my comment policy
. In a few cases, I may leave spammy comments but remove any URLs they contain.