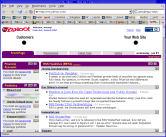 It's been under development and testing for a while (it even tried to sneak out recently) and is now ready for you to play with. Now you can add nearly any RSS feed to your My Yahoo page. That includes news sites, weblogs, searches, and more. Think of this as the natural evolution of one of the oldest web-based news aggregators.
Why?
Three simple reasons...
RSS makes it easier to track and share dynamic information and has been growing in popularity over the last years. It is becoming an increasingly important technology for anyone who spends time online gathering news or keeping track of friends and family (via weblogs). It's not just for geeks anymore.
It makes My Yahoo better. No longer are you restricted to the content that Yahoo has traditionally provided. It's the next logical step.
And, well, it's just cool. That counts for something too. :-)
The bottom line is this: RSS is big at Yahoo. We have a lot of RSS fans here. We already have RSS feeds for Yahoo News, for the Yahoo Buzz Index, for Ask Yahoo, and so on. And there's more to come after this, I hope.
Some of you may now realize that I cheated. My talk of RSS and Open Syndication in 2004 was really foreshadowing, not just guesswork. Sue me.
Try It
To start, go to add.my.yahoo.com/rss and follow the directions. But before you do, here's some stuff to keep in mind:
This is a beta. There will be bugs. It's not done yet. Really. I can tell you for a fact that there are a few problems with the OPML import. (Yes, you CAN import OPML either via HTTP upload or by providing a URL to a publicly hosted OPML file). It works quite well in some cases but not others. We're working on it. If you report a bug with it, having a copy of (or link to) your OPML file would help a lot.
We're looking for feedback. Of course, you're free to blog it or discuss here too, but if you use the form I linked you'll know that someone at Yahoo is reading it.
There are some docs on-line about the RSS module and for publishers, including notes about the crawler and opt-out.
Since some of you are certain to be too lazy to read anything else about it, I'll make a few more quick points.
The Crawler
The user agent is YahooFeedSeeker/1.0 (compatible; Mozilla 4.0; MSIE 5.5;) and it respects robots.txt as described here. If, for some strange reason, you don't want your content on My Yahoo, block the crawler. It's that easy.
The crawler will not eat up all your bandwidth. It uses an adaptive polling algorithm that attempts to match the typical update cycle for your feed. If it seems to be doing bad things, please say something. If you've been watching your referer logs, you may now that it's been in testing for a while now.
Ping It
Like weblogs.com, Technorati, and blo.gs, and other services, Yahoo's RSS database can be pinged when your blog updates. This ensures that it will be crawled in a very timely manner. The entry point you need to use is: http://api.my.yahoo.com/RPC2. It's just like the weblogs.com ping API.
If you'd prefer a REST API, it has that too. For example, to register an update for my blog, I'd fetch this URL:

http://api.my.yahoo.com/rss/ping?u=http://jeremy.zawodny.com/blog

So you can even to it with a simple bookmark if your weblog software doesn't allow you to add more ping targets. Just create that link and drag it to your button bar, bookmarks, favorites, or whatnot. (I'm working on a quick HOWTO for adding My Yahoo pings to MovableType. It's quite easy, really.)
This is also documented.
Feedback
To repeat something I said earlier, this is a beta. Expect bugs. Don't tell all your friends and grandmothers unless you think they're willing to deal with a few rough edges.
Having said that, the folks who have been building the RSS module would really like to know what you do and don't like about it. For example, if you'd like to subscribe to more than 25 feeds per My Yahoo page, say so. If you think we should publish a "top 100 subscribed to feeds" page, say so. (They're all the rage this month, it seems.) Use the form or leave a comment here. I'll do my best to relay any feedback posted here or on other weblogs.
And finally, have fun with it.
[As I've said before in case it's not abundantly clear, I don't speak for my employer on my weblog. Anyone who thinks otherwise needs some serious medication.]
See Also: Configuring MovableType to Ping Yahoo: Three Easy Steps.
Posted by jzawodn at January 22, 2004 08:10 PM
Privacy:
I do not share or publish the email addresses or IP addresses of anyone posting a comment here without consent. However, I do reserve the right to remove comments that are spammy, off-topic, or otherwise unsuitable based on
my comment policy
. In a few cases, I may leave spammy comments but remove any URLs they contain.