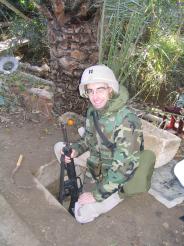 My friend Jeff is stationed in Iraq.
He had his picture taken recently (see right).
Can you guess where?
Yeah, I thought so. :-)
What a great Giftmas card photo this could be. Too bad he didn't have a Santa Hat with him.
This concludes my coverage of the so-called "war" in Iraq.
Thank you.
Posted by jzawodn at January 08, 2004 08:30 AM
Privacy:
I do not share or publish the email addresses or IP addresses of anyone posting a comment here without consent. However, I do reserve the right to remove comments that are spammy, off-topic, or otherwise unsuitable based on
my comment policy
. In a few cases, I may leave spammy comments but remove any URLs they contain.