With all the "top 10 foo of 2003" lists floating about, I'm becoming more and more aware how mainstream I'm not. It all started with reading the Top Searches 2003 from Yahoo! and the 2003 Google Zeitgeist.

I have never used KaZaA, didn't read or see Harry Potter, haven't seen the new Matrix film, never watched American Idol, and I don't find Britney Spears attractive. I couldn't tell you what sport Kobe Bryant plays (and don't care either, thanks). Last night I even discovered that Paris Hilton (and the famed video) has nothing to do with a hotel in Paris!
Oh, well. She has a misleading name anyway.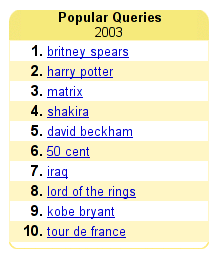 And in looking at the top albums list, I realized that not only do I not own a single one of the albums, I haven't even heard them, and I don't even know who most of the artists are. That's not to say I don't still accumulate music. It's just not what the majority is listening to.
Am I trying to be different or ignore what the rest of the world (at least the US-centric pop culture herds) are doing, buying, watching, listening to, and gossiping about?
No, not really. I just happen to have my own interests. Few of them revolve around the front page of People magazine or the latest Fox "reality" TV show.
I do own and love my iPod, which is pretty popular I guess. And I've been using Linux as my "desktop" (and laptop) OS for a few years now. That's becoming more and more The Thing To Do in some circles too.
Hmm. Or maybe I'm just weird.
If I had the ambition, I'd aggregate a bunch of these "top 10" lists and create some sort of "How mainstream were you in 2003?" quiz that provides a color-coded terror level style score graphics that people could slap on their blogs in the first week of 2004.
But to do that I need to know a lot more about the stuff on those lists. Obviously I'm not the guy for the job. However, if you feel like doing it, knock yourself out. Just make sure I get credit for the idea. :-)
Posted by jzawodn at January 01, 2004 01:17 PM
Privacy:
I do not share or publish the email addresses or IP addresses of anyone posting a comment here without consent. However, I do reserve the right to remove comments that are spammy, off-topic, or otherwise unsuitable based on
my comment policy
. In a few cases, I may leave spammy comments but remove any URLs they contain.