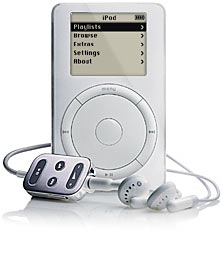 So I've had a 20GB Apple iPod for a couple weeks now. I've been using it on and off enough that I feel like I can offer my thoughts on the device.
On the plus side:
The size and weight are very good. It's a little heavier than my Walkman but almost identical in size.
Synchronization with the TiBook is great. FireWire is sooo much faster than USB.
Using iSync I have a good backup of my contacts, schedule, and todo list.
Battery life seems quite good so far.
It has a switch to disable all the controls for those times when you don't want to accidentally turn it on/of/whatever. Even the "remote" has one. That blew me away.
The sound quality is excellent.
It's very easy to use. It Just Works.
On the negative side:
You cannot change the volume without using the supplied remote. Apple really needs to add software volume control. The remote is cool, but it's really not necessary otherwise (most of the time). (See comments.)
The touch-based scroll wheel control works in the opposite direction from what I'd expect. I'd like an option to reverse the direction of it. (This is probably related to be being partly left-handed.)
The bottom line: It's a great device. I'll be giving my old Diamond Nomad Jukebox (6GB) to Kasia when she visits California next week. To paraphrase Ferris Beuller: if you have the means, I highly recommend it.
Posted by jzawodn at January 14, 2003 06:00 PM
Privacy:
I do not share or publish the email addresses or IP addresses of anyone posting a comment here without consent. However, I do reserve the right to remove comments that are spammy, off-topic, or otherwise unsuitable based on
my comment policy
. In a few cases, I may leave spammy comments but remove any URLs they contain.