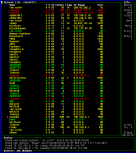 While driving to my aunt & uncle's place for dinner tonight, I bought along the laptop and external WiFi antenna. I ran kismet for each leg of the drive while my Dad drove and my Mom tried to figure out what the heck I was doing. (The audio alerts are quite helpful when doing this.)
The results were interesting. On the way from my parent's house (south Toledo) to aunt & uncle's (in Oregon, just east of Toledo) I found about 47 wireless networks. A surprising number (40%) used encryption. The number of networks named "linksys" outnumbered those named "NETGEAR" by about 3 to 1.
On the way from their place to visit my grandma in the nursing home (Sylvania and Holland-Sylvania), we found about 42 networks. We were on 280 and 475 most of the ride but still managed to find some along the highway.
Then, on the drive from the nursing home back to my parents house we found tons of 'em. A total of 142 networks. On this leg, the number of "linksys" networks seemed out outnumber "NETGEAR" by at least 8:1. What fun! :-)
Tomorrow I'll try the ride to my sister's place southeast of Cleveland, along I-80 and such.
Posted by jzawodn at December 24, 2003 08:09 PM
Privacy:
I do not share or publish the email addresses or IP addresses of anyone posting a comment here without consent. However, I do reserve the right to remove comments that are spammy, off-topic, or otherwise unsuitable based on
my comment policy
. In a few cases, I may leave spammy comments but remove any URLs they contain.