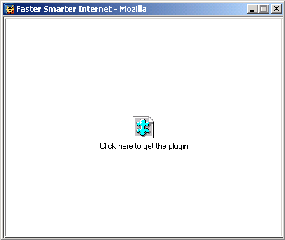 Somehow I ended up on Microsoft's web site. I clicked around and found some on-line quizzes.
Find out how smart you really are by taking the Faster Smarter Online Challenge. You may enter the sweepstakes once per quiz. The more quizzes you play, the better your chances to win a digital camera or other cool prizes!
Oh boy! I wanna win!
I clicked on quiz #3 (Internet) because I think I know something about the Internet--maybe even as much as Bill himself.
It required a plug-in. The window that popped up had the title Faster Smarter Internet. Click the image at the right to see for yourself.
Riiiiight. Yeah, those guys up in Redmond really do get the Internet, don't they?
I guess I failed the quiz. You win, Bill. I'm not worthy.
Posted by jzawodn at May 06, 2003 09:17 PM
Privacy:
I do not share or publish the email addresses or IP addresses of anyone posting a comment here without consent. However, I do reserve the right to remove comments that are spammy, off-topic, or otherwise unsuitable based on
my comment policy
. In a few cases, I may leave spammy comments but remove any URLs they contain.