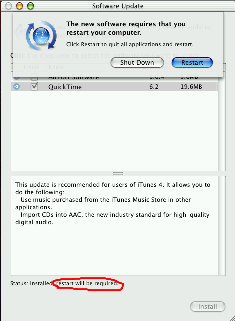 Yes, I've bitched about this before, but it's still happening and it's still stupidly annoying.
WTF?!
Apple, are you listening?
Nope. Didn't think so.
My "Software Update" just suggested I install QuickTime 6.2 because "This update is recommended for users of iTunes 4." Huh? QuickTime (video software) used with iTunes. That's not terribly intuitive. But if they want to bundle AAC audio support with QuickTime rather than iTunes, so be it. But don't tell me I must reboot in the process. That's just plain stupid. This is Unix under the hood, right? Is this an AAC kernel module, or what?
Now I understand why people have a love/hate relationships with their Macs. Apple drives them nuts often enough to make it happen.
I love iTunes and the new Apple Music store. Yes, I complained about it but I've actually used it a bit more and am very fond about it. I plan to do a small write-up on it soon. But right now I'm pissed at Apple. Last night I was in love with Apple and how fucking brilliant the music store is.
One more note, Apple. Please make URLs that are easy to guess. I first tried music.apple.com only to find that I didn't exist. I had to use www.apple.com/music instead. It's not hard to make both work. Really. Having things work on the first guess is part of what makes Apple stuff cool. Please extend that to your web site.
I know you can do it. How? Try quicktime.apple.com and notice that it takes you to www.apple.com/quicktime/. No fuss. It just works.
Posted by jzawodn at May 04, 2003 10:07 PM
Privacy:
I do not share or publish the email addresses or IP addresses of anyone posting a comment here without consent. However, I do reserve the right to remove comments that are spammy, off-topic, or otherwise unsuitable based on
my comment policy
. In a few cases, I may leave spammy comments but remove any URLs they contain.