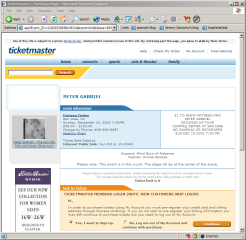 I'm trying to buy a ticket to Peter Gabriel's "Growing Up" concert at the Comapq Center in San Jose on Dec 15th. But the Ticketmaster.com site is sending me in loops. It keeps making me put in my e-mail address and password. (See the login box at the bottom of the screenshot?) It's quite frustrating. I'd hate to have to like pick up the phone and talk to a human.
I guess I'll try again in the morning. Well, later in the morning.
I went to his Secret World Live concert back in 1993 and really enjoyed it. I'm glad to read that he'll be playing some of his classic stuff as well as tunes from the new album, because I like his old stuff quite a bit more.
Update: Strangely, it worked fine in Mozilla 1.2. Oh, well. At least I've got a ticket to the show now.
Posted by jzawodn at November 07, 2002 01:32 AM
Privacy:
I do not share or publish the email addresses or IP addresses of anyone posting a comment here without consent. However, I do reserve the right to remove comments that are spammy, off-topic, or otherwise unsuitable based on
my comment policy
. In a few cases, I may leave spammy comments but remove any URLs they contain.