I was looking at some updated stats for my web site and decided to plug the numbers into Excel so that I could more easily visualize the relationships. The chart below is one of several I produced. It shows the percentage of search referrals I can attribute to each of the major search engines for the month of October 2005.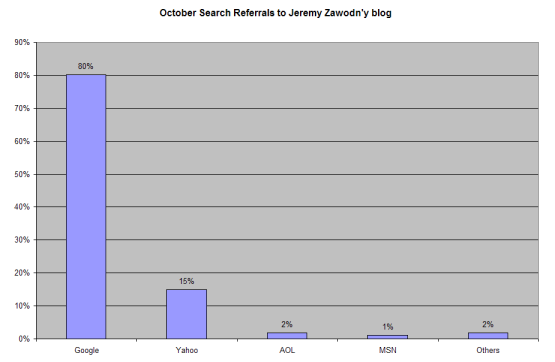 What's interesting to note is that neither AOL or MSN are "major search players" if you look at these numbers and nothing else. All other search engines combined provided more referrals than either AOL or MSN.
The gap between Google and Yahoo! is hard to interpret, since it doesn't come close to matching the publicly available market share numbers. The same is true of the numbers for MSN and AOL. They should be higher.
There are two ways I can think to explain this:
People who use Google are more likely to be searching for content that's on my site.
The market share numbers are wrong. Google actually generates more traffic than has been reported and MSN and AOL have been over-estimated.
I suspect that #1 is closer to reality. After all, I most often write about topics that are of interest to an audience that's more technical than average. And I suspect that crowd skews toward Google in a more dramatic fashion than the general population of Internet users. If that's true, it would seem to confirm many of the stereotypes about AOL and MSN users.
What do your numbers look like?
[Yes, I know the chart title is messed up.]
Update: Others have responded with numbers on their own sites:
Posted by jzawodn at October 22, 2005 01:46 PM
Privacy:
I do not share or publish the email addresses or IP addresses of anyone posting a comment here without consent. However, I do reserve the right to remove comments that are spammy, off-topic, or otherwise unsuitable based on
my comment policy
. In a few cases, I may leave spammy comments but remove any URLs they contain.