After my most recent brush with Murphy (in which I lost the hard disk on my T23), I decided it was time to actually do something with my new SATA hard disk controller (the Promise Sata150 TX4 I asked about) and those three 250GB disks I bought.
Linux Archive Server

I've added the controller and three disks to the Linux box that has served as my workstation from time to time. It already has two 80GB IDE disks, a DVD-ROM drive, and a CD-RW drive. So I had to visit Fry's to pick up some power cable splitters. Luckily the case has a beefy power supply.
Using a Knoppix 3.6 CD, I've booted with the 2.6.7 kernel so that I can talk to the controller--my 2.4 kernel had no driver. I used cfdisk to put a primary partition on each, set the type to FD (Linux software RAID auto-detect), and created an /etc/raidtab that looks like this:

raiddev /dev/md1
  raid-level      5
  nr-raid-disks   3
  nr-spare-disks  0
  persistent-superblock 1
  chunk-size      128
  device          /dev/sda1
  raid-disk       0
  device          /dev/sdb1
  raid-disk       1
  device          /dev/sdc1
  raid-disk       2

Then I ran mkraid /dev/md1 to create the array. I built a ResierFS filesystem and let the array sync while I ate dinner.
From there, I ran an rsync to copy the data on the existing disks to the new array. With that done, I will wipe the the 80GB disks and create a RAID-1 array of them. It will house the operating sytem and home directories for the system. The larger RAID array will be mounted as /raid used to archive copies of files from my other machines.
Then I'll automate the process of using rsync to keep local copies of all my remote data on the RAID array. Given the available space, I'll likely use rsync snapshots to maintain several versions of each machine that I remotely clone.
The end result is roughly 460GB of usable space for backups and archives of those backups. Two years from now, I'll probably be able to swap in new disks to get 2TB of space for the same cost. And the old disks will still be under warranty.
Powerbook Backups

Inspired by Mark's posting on Super Duper, I finally found a solution that works well for my Powerbook. I've had an external Firewire disk: a Maxtor OneTouch 300GB model that I bought with the Powerbook. The disk came with Retrospect, but I've found the software to be rather lame.
Super Duper does exactly what I need. It provides an easy way to incrementally update a full backup of my laptop--one that I can even boot from and restore with if it dies entirely. In other circumstances, I can simply mount the backup volume and grab the files I need.
It's definitely worth the $20 registration fee and highly recommended.
The Thinkpad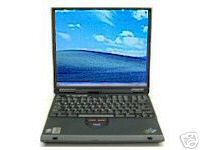 After IBM replaces the disk in the Thinkpad, I'll probably sell the machine. They seem to be fetching prices in the $800 neighborhood. It's still under warranty, has 768MB of RAM, and a Wifi card with a great antenna.
That means I'll probably be running SeeYou and the software required to talk to my LX5000 flight computer on my company laptop (all praise the company!). I'll probably take two approaches to backing it up, aside from whatever the standard procedure at work is.
First, I'll use a Knoppix CD to simply copy the entire hard disk over to my archive server once in a while. Since that's a pretty brute force approach, I'll probably backup the most important data on a more regular basis. To do that, I'll probably revive my batch file scripting skills just long enough to set something up. It'll copy the important stuff over to the archive server either using Samba or WebDAV through Apache and mod_dav.
Any advice on this?
Laptop Stolen!
One thing I hadn't thought of is the possibility of my laptop being stolen. It recently happened to Rasmus.
My nice new T42p was stolen by some loser at a PHP conference in Paris. It is amazingly inconvenient to lose a laptop like this. It was from inside the conference hall and there was virtually no non-geek traffic there. If a fellow geek actually stole my laptop from a PHP conference then there is something seriously wrong with the world. You can steal my car, my money, my shoes, I don't really care, but don't steal my damn laptop!
Sigh.
I can't believe that someone at a PHP conference would steal the laptop of the guy who created PHP. Something is, indeed, wrong with this world.
It's more motivation to make sure my backups happen frequently and in a reliable manner.
Rasmus: if you need any advice on a Powebook, I know you won't be shy about asking.
Posted by jzawodn at November 20, 2004 08:25 PM
Privacy:
I do not share or publish the email addresses or IP addresses of anyone posting a comment here without consent. However, I do reserve the right to remove comments that are spammy, off-topic, or otherwise unsuitable based on
my comment policy
. In a few cases, I may leave spammy comments but remove any URLs they contain.