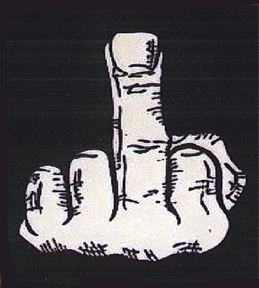 You know, going to the SES Conference, I tried to give these on-line marketing folks the benefit of the doubt. Maybe they're not all the sort of scum who'd love nothing more than another chance to shove their "message" down my throat, spam me, or re-sell my e-mail address.
Case in point: Atlas OnePoint.
I just received an unsolicited e-mail message from them which begins:
Thank you for visiting our booth at Search Engine Strategies, San Jose. We appreciate your interest in our innovative suite of online marketing tools. You may have seen our recent announcement - GO TOAST is now Atlas OnePoint (www.AtlasOnePoint.com)
Hang on a sec. I didn't visit any booths at SES. I arrived about 10 minutes before my session time, sat on the panel, and then left shortly after. Besides, when our panel ended, the conference was over. So I'm pretty sure I didn't swing by on my way out the door.
Dave Carlson, President of Atlas OnePoint (phone number 1-800-416-8389), screw you and your company.
I hope that someone searching for your company stumbled across this post and decides to take their business elsewhere.
The fact that the e-mail ends with:
If you no longer wish to receive Atlas OnePoint news, please contact Customer Care at CustomerCare@AtlasOnePoint.com. Thank You.
Merely confirms my suspicion. You've added me to your "news" list under false pretenses and now expect me to do the work of fixing your mistake. How about if I repay the favor by running up the bill on that 1-800 number? Or convincing as many of my crazy blogger friends as possible to link to my story. Wouldn't it be fun to have this on the first page of search results as your own company web site?
In case the larger message is not clear, spamming people is not the way to win their business. It has the opposite effect. My e-mail box is not for your "news", marketing, press releases, and related junk.
Yes, junk.
Posted by jzawodn at August 16, 2004 03:14 PM
Privacy:
I do not share or publish the email addresses or IP addresses of anyone posting a comment here without consent. However, I do reserve the right to remove comments that are spammy, off-topic, or otherwise unsuitable based on
my comment policy
. In a few cases, I may leave spammy comments but remove any URLs they contain.