I just ran across news that Ubuntu Kung Fu is Shipping and happened to look at the cover. As a cat lover and technical book author myself, I felt a little slighted.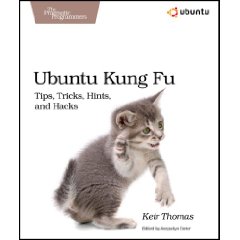 That's right. Keir Thomas got a kitten on his book.
That kicks ass.
But even better, Ubuntu Kung Fu (PDF and printed) sounds like a real winner for day-to-day Ubutnu users. As the marketing blurb says:
Award-winning Linux author Keir Thomas gets down and dirty with Ubuntu to provide over 300 concise tips that enhance productivity, avoid annoyances, and simply get the most from Ubuntu. You'll find many unique tips here that can't be found anywhere else. You'll also get a crash course in Ubuntu's flavor of system administration. Whether you're new to Linux or an old hand, you'll find tips to make your day easier.
In other words, it's a book that nearly everyone using Ubuntu could benefit from. I'm hoping to grab a copy shortly. Have a listen to Keir Thomas on Ubuntu Kung Fu in this week's Pragmatic Podcast.
Also available on Amazon.com.
Posted by jzawodn at September 25, 2008 06:44 AM
Privacy:
I do not share or publish the email addresses or IP addresses of anyone posting a comment here without consent. However, I do reserve the right to remove comments that are spammy, off-topic, or otherwise unsuitable based on
my comment policy
. In a few cases, I may leave spammy comments but remove any URLs they contain.