When I thought about writing this last night, I didn't realize that FriendFeed was launching. Good timing.
My intent was to point out two things, really. First off, usage of FriendFeed seemed to be really picking up steam in the last few weeks. In retrospect, that's probably because they were letting more and more folks into the private beta as they got closer to launching.
But the more interesting thing to me was the fact that my FriendFeed activity stream has become a new place for folks to comment on things I'ma doing and even voice their approval. For example, my blog post titled The Difference Between the Rich & Famous and the Rest of Us got a few reactions yesterday.
That made me wish there was a FriendFeed API so that I could surface that discussion back on my blog. So I made a comment on Twitter and that garnered even more discussion on my FriendFeed.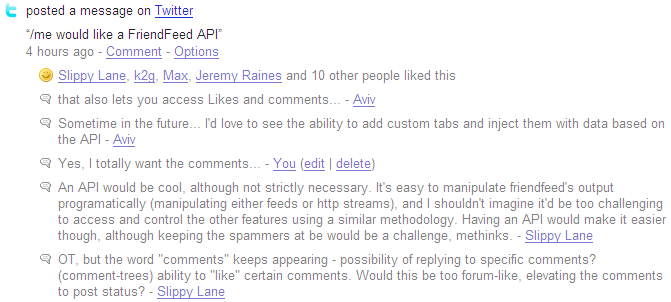 This is all pretty interesting. FriendFeed is, in a way, attempting to join together the loosely coupled bits of social "exhaust" I produce on the web. And at the same time, they've created another new source of activity that I'd like to pull back onto my own web site.
Once the FriendFeed API is out, a whole bunch of interesting stuff is bound to happen. Watch this space.
See Also: Friendfeed, the best software for conversations, raises round and launches publicly on VentureBeat
Posted by jzawodn at February 26, 2008 07:07 AM
Privacy:
I do not share or publish the email addresses or IP addresses of anyone posting a comment here without consent. However, I do reserve the right to remove comments that are spammy, off-topic, or otherwise unsuitable based on
my comment policy
. In a few cases, I may leave spammy comments but remove any URLs they contain.