I like to look back and laugh at myself. It's fun to see how some things have changed over the years while others have not.
Over the weekend, I was making room in my filing cabinet for some paperwork and came across a few folders that collected my college era stuff: transcripts, official documents, and so on. Among them was a clipping from The BG News (our campus newspaper). It's a letter to the editor that I wrote during the presidential campaign for the 1992 election: Perot will not win, but he should. I was working to organize the Ross Perot for President Campaign on the BGSU campus back then.
It is below. Click the image to read a slightly larger version.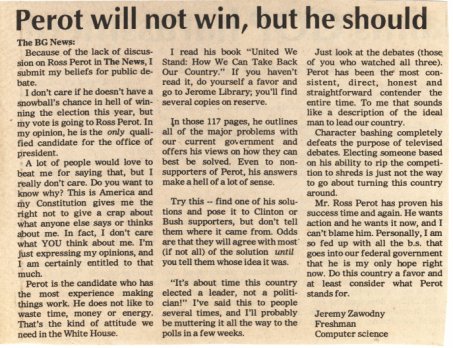 Man, that takes me back... and gives me a good chuckle at the same time. :-)
Posted by jzawodn at February 04, 2008 11:03 AM
Privacy:
I do not share or publish the email addresses or IP addresses of anyone posting a comment here without consent. However, I do reserve the right to remove comments that are spammy, off-topic, or otherwise unsuitable based on
my comment policy
. In a few cases, I may leave spammy comments but remove any URLs they contain.