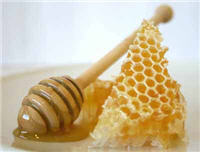 In Honey is better than childrenís cough syrups for a silent night we learn that honey is nature's cough medicine. That's right. Put that Robitussin down and grab a honeycomb.
Honey did a better job of reducing the severity and frequency of night-time coughs. It also improved sleep quality for children and their parents.
Seriously. They studied this and found that honey actually performed better than Dextromethorphan, the active ingredient in most over the counter cough medications.
Dr Paulís team observed 105 children and teenagers with respiratory tract infections. The study ran over two nights. On the first, none of the participants was given any treatment. On the second, they were divided into groups who received either honey, an artificial honey-flavoured DM medicine or no treatment, about half an hour before bedtime.
Parents answered questions about their childís symptoms and sleep quality, as well as their own ability to sleep. They rated honey as significantly better for the relief of symptoms. The findings are reported today in the journal Archives of Pediatrics & Adolescent Medicine.
It's funny. My barber told me that raw honey is also helpful in reducing pollen allergies. I tried it a few years ago and found that it worked pretty well for me.
I wonder what else honey is good for?
Posted by jzawodn at December 06, 2007 06:20 AM
Privacy:
I do not share or publish the email addresses or IP addresses of anyone posting a comment here without consent. However, I do reserve the right to remove comments that are spammy, off-topic, or otherwise unsuitable based on
my comment policy
. In a few cases, I may leave spammy comments but remove any URLs they contain.