This is a bit of site news, which really doesn't happen a lot around here. File this in the "meta" category, I guess.
My blog is now available in numerous non-English languages thanks to the folks at TechCzar. They approached me a couple months ago about a partnership that'd provide content from my blog in other languages as part of their blog network. In return for that, I've added a banner to the top of the site that contains several links to TechCzar along with national flags that link to the translated content.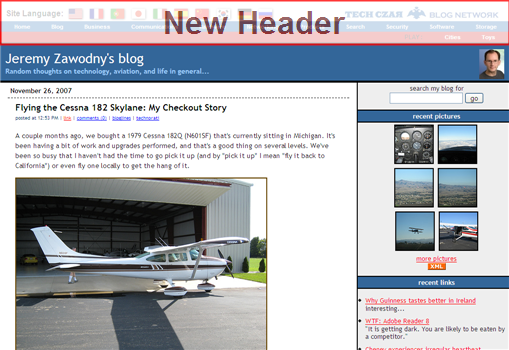 I have committed to try this out for a few months, so I'd love to hear your feedback if you'd rather read my site in a language other than English. Either drop a comment on this post, or email me.
I will also mention the translated content and TechCzar in general a couple times a month, much like other blogs thank their sponsors from time to time.
Just to be clear, they're getting exclusive access to translate my content and host the translated copy on their site. They're also getting links to that from my site (in the form of that new header). I'm getting exposure to more potential readers for the stuff I write and a bit of extra cash each month.
The original version of all my content stays right here on jeremy.zawodny.com/blog as you'd might expect.
Now back to your regularly scheduled geeking...
Posted by jzawodn at November 26, 2007 10:15 PM
Privacy:
I do not share or publish the email addresses or IP addresses of anyone posting a comment here without consent. However, I do reserve the right to remove comments that are spammy, off-topic, or otherwise unsuitable based on
my comment policy
. In a few cases, I may leave spammy comments but remove any URLs they contain.