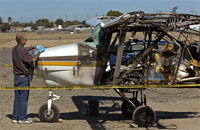 A few weeks ago this story caught my eye and I've been meaning to write about it ever since. A pilot (William Supan) flying his Piper Tri-Pacer from the Modesto Airport was taking a passenger (Jinhua Lin) for a first airplane ride. He had to make an emergency landing due to smoke coming out of the engine.
Upon landing, he apparently found a problematic hose clamp and went to the nearby Wal-Mart (not Wal-Mart Aviation Supply!) to get a replacement. He '"fixed" the problem himself, didn't get a mechanic to double-check his work, and went up again. As you might expect, the cockpit started to fill with smoke again, so he declared an emergency and landed a second time.
He checked and found that the hose had a cut in it. Apparently he replaced the hose (who knows what he used for that), because he took off a third time. But this time the engine caught fire and he made a third (and very bad) emergency landing. His passenger was spooked enough that she jumped from the plane on the runway and ended up in the hospital. That third landing cause substantial damage to the airplane (he bounced a few times and went off the runway), but the ensuing fire pretty much finished off the job.
Yikes!
In aviation safety training, it's often said that every accident is the result of a series of bad decisions, not just a single one. In this case, it's almost painful to read the story--seeing one bad decision after another, you can't help but to wonder what the guy was thinking.
I think The Modesto Bee story had a great line in it:
Ian Gregor of the FAA indicated that officials were surprised that pilot Wil-liam Supan, 52, of Pleasanton would try to take off a third time after having been forced to land twice because of smoke in the cockpit.
Hell, anyone with the smallest shred of common sense should have been surprised by that!
See Also: AVweb coverage
Posted by jzawodn at September 28, 2007 10:50 AM
Privacy:
I do not share or publish the email addresses or IP addresses of anyone posting a comment here without consent. However, I do reserve the right to remove comments that are spammy, off-topic, or otherwise unsuitable based on
my comment policy
. In a few cases, I may leave spammy comments but remove any URLs they contain.