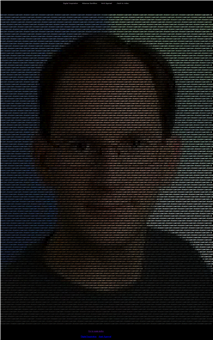 Apparently someone has seen fit to make an ASCII Art Text Painting of me and a bunch of other bloggers.
There's some weird satisfaction in seeing an ASCII art rendering of a high resolution image, taking a screen shot of it, and then re-posting it again as a PNG file. It's kind of like buying music from iTunes, burning it to a CD, and then ripping the track back to an MP3 file so that you can use it on any device you actually want. Except without the RIAA being involved.
Heh.
In related non-news, dot matrix printers are still around.
Bored? Read more about ASCII Art on Wikipedia or spend a bit of time in this ASCII Art Gallery.
Got a favorite piece of ASCII Art? Drop a link in the comments. Hopefully it doesn't involve me. :-)
Posted by jzawodn at July 25, 2007 06:28 AM
Privacy:
I do not share or publish the email addresses or IP addresses of anyone posting a comment here without consent. However, I do reserve the right to remove comments that are spammy, off-topic, or otherwise unsuitable based on
my comment policy
. In a few cases, I may leave spammy comments but remove any URLs they contain.