Is it just me or is this whole Facebook thing out of control?
I thought so.
I mean, I tried to ignore it. For seemingly years I had a login that didn't work and I couldn't find a way to fix. I kept hearing about it but knew it aimed mainly at the college crown crowd (which I am not), so I only kind of sort of paid any attention.
But then My Facebook Account Got Fixed and people started asking me to be their friend. So I friended them. And then more.
And then I played a bit with my profile so that it looked like I cared.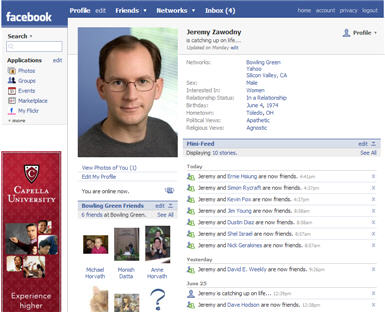 And here we are today. It seems that not a day goes by without a handful of new friend requests showing up. Months after I thought Facebook had peaked and it feels as thought its growing faster than ever.
Who are all these people?
One of these days, remind me to write about the collision course that Facebook and LinkedIn (profile) seem to be on... Or better yet, point me at some who has already done a good job of covering that. All I'll say for the moment that it seems to be getting easier to add folks on LinkedIn now that Facebook is becoming such a force.
Thoughts?
Posted by jzawodn at June 27, 2007 03:54 PM
Privacy:
I do not share or publish the email addresses or IP addresses of anyone posting a comment here without consent. However, I do reserve the right to remove comments that are spammy, off-topic, or otherwise unsuitable based on
my comment policy
. In a few cases, I may leave spammy comments but remove any URLs they contain.