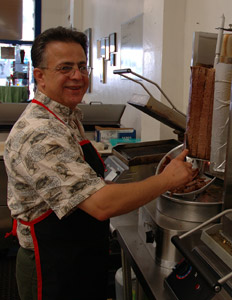 Twice in as many weeks I've had the pleasure of trying to food at Casablanca's Cafe in downtown Willow Glen (just a mile from my house). Located at 1185 Lincoln Ave, it's conveniently located near many other shops, businesses, and resterautns--not to mention parking at the nearby Bank of America branch.
Both times the food was skilfully prepared by owner Fawaz Hamed using fresh and tasty ingredients. So far I've sampled the Chicken Shawarma (twice--it's fantastic), Kufta Kabob, and Chicken Breast Fillet. Oh, and of course the excellent Baklava for dessert. :-)
If you're in the mood for some well priced food made in front of your eyes at a locally owned business, I highly recommend Casablanca's Cafe.
It's hard to believe I've lived just a mile from this place for over three years and hadn't stopped by to check it out.
More about Casablanca's Cafe:
Posted by jzawodn at June 14, 2007 11:42 AM
Privacy:
I do not share or publish the email addresses or IP addresses of anyone posting a comment here without consent. However, I do reserve the right to remove comments that are spammy, off-topic, or otherwise unsuitable based on
my comment policy
. In a few cases, I may leave spammy comments but remove any URLs they contain.