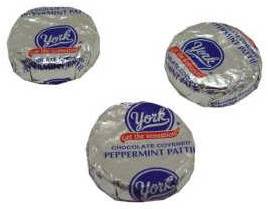 I had the most amazing experience today. I ate a few fresh York Peppermint Patties.
This may not sound all that remarkable, but you need to realize that I have a habit of eating the little bite-sized treats after lunch most days. It's like a mini-desert. The Yahoo Mart (our little on-campus convenience store) has them individually wrapped in one of those big boxes at the checkout counter.
I'd noticed that the box was getting more and more empty as the last few weeks went by but thought nothing of it. But today it was full. I grabbed a few as I got a pack of gum (Trident Tropical Twist, if you must know) and headed to my desk.
The difference became apparent as I bit into the first one. Rather than being almost crunchy and a little dry, the white inside was nearly creamy. The improvement both texture and taste was simply amazing!
And, as a bonus, the dark chocolate on the outside had not started to whiten yet. Not in the least.
I now have a completely new appreciation for the difference between "fresh" and "stale" peppermint patties. I wonder if there's an expiration date on the box. Because there certainly isn't one on the individually wrapped treats.
Anyway, between this and my Emacs editing tips, I can't imagine how you're getting anything done today.
While you ponder that, I'm going to go get a few more fresh peppermint patties. :-)
Posted by jzawodn at April 13, 2007 02:56 PM
Privacy:
I do not share or publish the email addresses or IP addresses of anyone posting a comment here without consent. However, I do reserve the right to remove comments that are spammy, off-topic, or otherwise unsuitable based on
my comment policy
. In a few cases, I may leave spammy comments but remove any URLs they contain.