When it came time for my Private Pilot Single Engine Land checkride I decided to make up a simple spreadsheet for the Citabria's Weight and Balance.
It's a requirement that you show the Designated Pilot Examiner (DPE) that the aircraft you're planning to fly with not be over its certified gross weight or outside of the center of gravity (CG) range specified by the manufacturer.
Given that the only variable I can tweak in the Citabria is how much fuel I put in the tank, I put together a simple spreadsheet to answer the question "How much fuel can I legally carry?"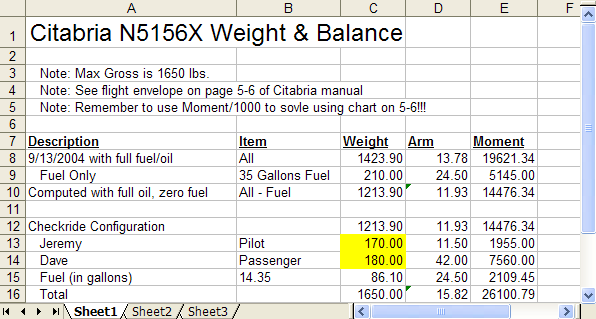 Basically, you enter the weight of the pilot and rear seat passenger in the yellow cells. It will then re-compute the "Fuel (in gallons)" line to show how many gallons of fuel you can carry.
I'm providing this as a simple template for anyone else who may need to do something similar. However, make sure you use the numbers from your aircraft's most recent weight and balance sheet. You can't expect even aircraft of the same make and model (Citabria 7KCAB, in this case) to be the same. The empty weight will depend on any repair work, engine accessories, panel configuration, and so on.
Posted by jzawodn at March 12, 2007 12:10 PM
Privacy:
I do not share or publish the email addresses or IP addresses of anyone posting a comment here without consent. However, I do reserve the right to remove comments that are spammy, off-topic, or otherwise unsuitable based on
my comment policy
. In a few cases, I may leave spammy comments but remove any URLs they contain.