Am I the only one who gets bizarre "fan mail" that looks like it was written by a text messaging 7th grade girl in need of blogging advice?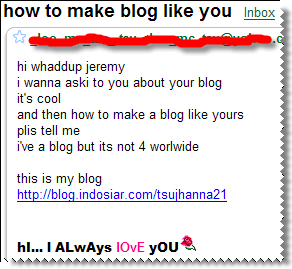 Assuming that I'm not, does anyone out there actually respond to these? If so, what do you say?
I'm at a loss on this one.
Suggestions, anyone? The funnier the better. :-)
Posted by jzawodn at January 21, 2007 08:32 PM
Privacy:
I do not share or publish the email addresses or IP addresses of anyone posting a comment here without consent. However, I do reserve the right to remove comments that are spammy, off-topic, or otherwise unsuitable based on
my comment policy
. In a few cases, I may leave spammy comments but remove any URLs they contain.