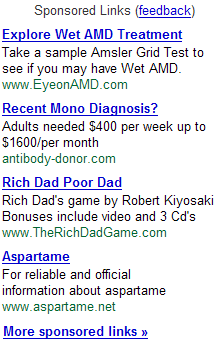 A funny thing happened a few minutes ago. I was reading the latest message in a conversation using Gmail and happened to glance at the contextual advertisements over on the right. You'll see a screenshot of them to the right of this text.
It occurred to me that the advertisements, even the blue "headline" text at the top of each ad, taken together did a good job of summarizing the discussion so far. I'm not saying they were 100% accurate or comprehensive. But I do believe that this particular set of ads is a sort of unique fingerprint that likely represents (or matches) that one conversation out of all those in my email archives.
That makes me think that better methods of conversation search (email, IM, blog comments) must be on the horizon. If the technology exists to create a very small, accurate, and [most importantly] recognizable fingerprint of a set of messages, how long is it before that distilled knowledge will be searchable too?
It's easy to say "show me the conversation that had to do with so-and-so's Dad's health news..." But as time goes on it gets harder and harder to remember any of the real details surrounding the conversation and you become less likely to get the keywords right.
Hmm. There's a gap in need of bridging and I get the feeling that the contextual advertising technology is leading the way, mainly because that's where the money is today. But sooner or later this is going to start to bleed over into more and more applications. And eventually it'll be as commoditized as search technology has become today.
As a thought experiment, what would it be like if you could select an advertisement and then be shown a list of all conversations in your email archive that were relevant. Would that be easier? More fun? Even useful?
I don't know the answer to that.
Posted by jzawodn at January 14, 2007 08:22 PM
Privacy:
I do not share or publish the email addresses or IP addresses of anyone posting a comment here without consent. However, I do reserve the right to remove comments that are spammy, off-topic, or otherwise unsuitable based on
my comment policy
. In a few cases, I may leave spammy comments but remove any URLs they contain.