As is often the case, an email message in my inbox had a calendar appointment attached to it. I dutifully clicked the attachment so that Outlook (which I use only for calendaring purposes) would ingest it. This time, however, it refused to do so.
Clearly in need of help, I clicked the "Show Help" button.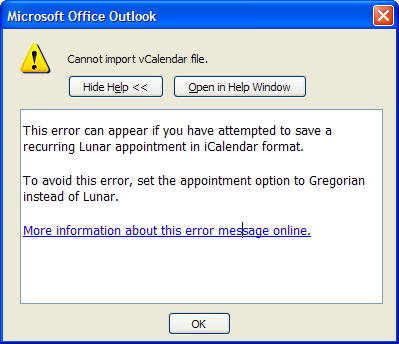 As you might have surmised, that doesn't help at all. I don't know how to "set the appointment option" either in general or in this specific case. Clearly in need of more help, I clicked the hyperlink "More information about this error message online" and hoped to get more information.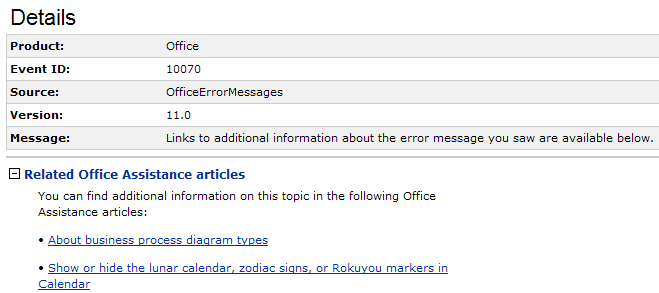 Strictly speaking, I guess I got "more" information--mainly some useless metadata about the error.
Is it any wonder that I don't entrust my actual email to Outlook too?
Posted by jzawodn at October 16, 2006 12:44 PM
Privacy:
I do not share or publish the email addresses or IP addresses of anyone posting a comment here without consent. However, I do reserve the right to remove comments that are spammy, off-topic, or otherwise unsuitable based on
my comment policy
. In a few cases, I may leave spammy comments but remove any URLs they contain.