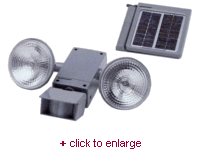 About a month ago I stumbled across a reference to the Brinkman SL-7 solar security light. After looking at the info a bit, I found a decent price and decided to get one. (It helps that I'm a bit of a solar gadget freak.)
It's a pretty straightforward setup. It looks like any other motion sensing security light, but comes with a small 6 volt solar panel which can be mounted several feet away from the light. Inside the housing is a 6 volt battery that appears to be roughly the same size as a 4 amp hour battery.
Mine arrived with a the power socket broken, meaning that I couldn't plug the solar panel in. Luckily I was able to repair that with a bit of epoxy (it was a good excuse to open it up and look around inside). A few days later, I used the template on the last page of the instruction manual to put a couple of screws in the wood next to my back door and hung the unit.
I mounted the solar panel up a bit higher and let it charge for a few days (the manual recommends 2-3 days of good sunlight before turning it on). I tested the battery before putting it outside and knew it was pretty well charged already, but the solar panel is pretty small--just enough to trickle charge.
A few days later, I put turned it, aimed the sensor, adjusted sensitivity, and haven't touched it since then. The unit "just works" and has the added benefit of lighting my grill reasonable well now that it's getting darker around dinner time.
My next solar device review will be less favorable.
Posted by jzawodn at September 26, 2006 07:26 AM
Privacy:
I do not share or publish the email addresses or IP addresses of anyone posting a comment here without consent. However, I do reserve the right to remove comments that are spammy, off-topic, or otherwise unsuitable based on
my comment policy
. In a few cases, I may leave spammy comments but remove any URLs they contain.