While I didn't get to fly over Burning Man, I had a blast last weekend. The soaring was quite good and I did my best to take advantage of it.
Saturday
The conditions looked quite good upon launching on Saturday. For some reason there have been an unusually high number of days this season when it was possible to fly the west side of Lake Tahoe, going down the Sierra crest.
Having never done that before, I decided to fly the length of the lake on the "far" side. Rather than race anywhere, I took it slow, snapped some pictures along the way, and just tried to enjoy the scenery. Eventually I ended up crossing just north of Emerald Bay and spending some time circling over Freel Peak and the Heavenly ski resort.
After arriving at the south end of the lake, I noticed some really nice clouds up north, so I flew diagonally across the lake toward Squaw Valley where I connected with some clouds again. From there I headed out over Reno Stead Airport and then back toward Donner Summit before landing.
There are pictures on Flickr and the flight is on OLC.
Sunday
Best flight ever!
That's right. On Sunday I managed to fly my personal best flight ever out of Truckee. For distance it almost exactly tied one of my flights from last year in Parowan, Utah. But I flew it faster this year (87km/hr average speed) so it took just a bit over 5 hours. [Trace is on OLC.]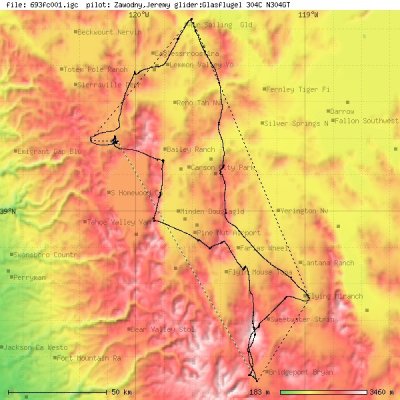 The route of flight was from Truckee to Spooner Pass (where I struggled a bit), across the Carson Valley to the south end of the Pine Nuts, Desert Creek Peak, Mt. Patterson, and then just past Bridgeport with Mono Lake clearly in view.
Then I headed east to over fly the famous Hilton Ranch. I should have continued on to Mt. Grant, but turned northwest back to the Pine Nuts and then to Air Sailing, flying over Dayton Valley and Tracy Power Plant along the way.
At Air Sailing I loitered a bit before heading back toward Truckee. Of course, I arrived back with extra height, so I burned off a bit by hitting Donner Lake before landing.
All in all it was a 5.3 hour flight that took me just under 450 kilometers. I got to see Bridgeport and the Hilton Ranch for the first time.
Monday
On Monday I flew in the TAGAR (Truckee Airport Glider Air Race), an informal contest organized by one of the local Truckee pilots. This time my goal was simply to finish the course. You see, last time we had the TAGAR, conditions were so weak that few contestants managed to do that much.
The weather was good this time: clouds that started at 13,500 and eventually topped out over 15,000 feet. There was a lot of sink out there and a decent headwind coming back on the final (and longest) leg, but all very managabe.
I came in pretty close to last, but I don't care. I had fun and learned a lot flying in the race. It was a great day to wrap up the long weekend. No pictures, but the trace is on OLC.
Posted by jzawodn at September 07, 2006 08:26 AM
Privacy:
I do not share or publish the email addresses or IP addresses of anyone posting a comment here without consent. However, I do reserve the right to remove comments that are spammy, off-topic, or otherwise unsuitable based on
my comment policy
. In a few cases, I may leave spammy comments but remove any URLs they contain.