While wandering my local Trader Joe's this evening to restock my supply of frozen broccoli and little peanut butter filled pretzels, I spied something new (to me) in the frozen isle.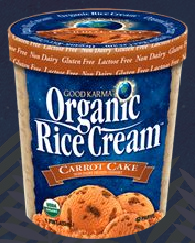 It seems that Good Karma foods makes fake ice cream. And since I'm lactose intolerant, I'm always up for trying a new brand and/or flavor of fake ice cream.
You'd be surprised how bland some of them can be. Or maybe you wouldn't.
Anyway... The flavor that caught my eye was, I kid you not, Carrot Cake. I was more than a little intrigued by this, since I (a) like the taste of a good carrot cake, and (b) couldn't image that they could pull that off.
Much to my surprise, I sampled the supposedly carrot cake flavored rice cream when I arrived home and found that it's pretty damned good. It doesn't have that weird texture and odd melting going on that at least one other brand has going on. But more importantly, the carrot cake flavor was very well implemented.
If you looking for a good fake ice cream and happen to like carrot cake, give it a try!
Just for the record, they also make Very Vanilla, Mudd Pie, Mint Chocolate Chip (which I must try), and Chocolate Peanut Butter Fudge.
Posted by jzawodn at August 28, 2006 10:13 PM
Privacy:
I do not share or publish the email addresses or IP addresses of anyone posting a comment here without consent. However, I do reserve the right to remove comments that are spammy, off-topic, or otherwise unsuitable based on
my comment policy
. In a few cases, I may leave spammy comments but remove any URLs they contain.