Apparently my ability to stay under the radar is more effective with some blog search engines than others.
When I read about the launch of Ask.com Blog Search, I thought "it's about f-ing time!" and ran over to kick the tires.
Apparently I kicked a bit too hard: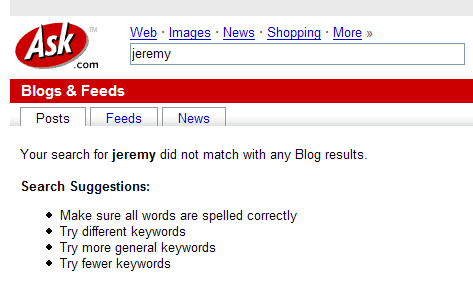 Just for reference, I check a few other blog search engines to see how many results that query returns:
Tecnorati: 454,027
Google: 776,718
IceRocket: 269,908
Feedster: 71,157
Bloglines: 340,700 (!)
Hmm.
I think that Jeeves is still around and he's pissed off about something.
Update: It turns out that Jeeves was just messing with me. It seems to be working Just Fine now and I'm getting a chance to poke around at the service. Not bad so far.
Posted by jzawodn at June 01, 2006 12:10 PM
Privacy:
I do not share or publish the email addresses or IP addresses of anyone posting a comment here without consent. However, I do reserve the right to remove comments that are spammy, off-topic, or otherwise unsuitable based on
my comment policy
. In a few cases, I may leave spammy comments but remove any URLs they contain.