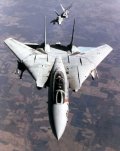 Hot on the heels of the F-16 Bird Strike Video that turned out not to be an F-16, I bring you the video of an F-14 performing a high-speed fly-by of the USS John Paul Jones and then exploding.
Note the guys yelling at the end about seeing "two parachutes! Two parachutes!"
I get the felling there's a fair amount of amateur military aviation mishap video floating around out there. If you happen to have some, send 'em my way. :-)
Posted by jzawodn at March 13, 2006 08:28 AM
Privacy:
I do not share or publish the email addresses or IP addresses of anyone posting a comment here without consent. However, I do reserve the right to remove comments that are spammy, off-topic, or otherwise unsuitable based on
my comment policy
. In a few cases, I may leave spammy comments but remove any URLs they contain.